Starring Mark Edwards, Jim Langley, and Nils Tikkanen as Team Honey Badger Express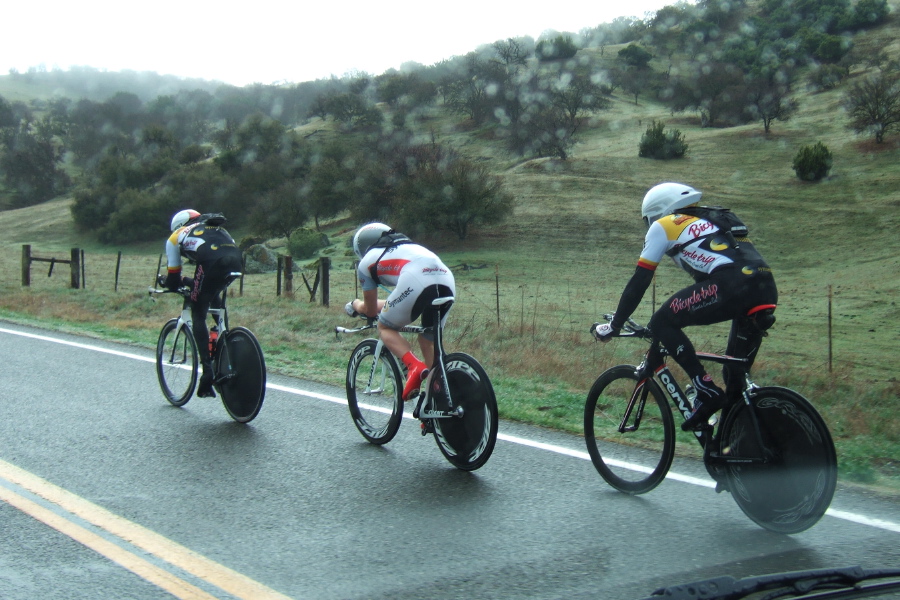 Team Honey Badger Express, in fine form. Photos courtesy of Bill Bushnell
What possessed us to do a 102-mile team time trial? Insanity? Sheer masochism? The prospect of breaking the course record? All of the above?
Whatever the reason, Mark, Jim, and I took this faux-race very seriously, with Mark and Jim crunching their power profile numbers and figuring out what target power would be best for 4+ hours. Their plan was to keep an eye on those numbers and yell at me (who races without any data aside from a stopwatch) if I was going too hard. We were all in pretty good shape for February, and were really hoping for a time close to 4:30:00. Heck, Jim and I even bought Camelbaks specifically so we could have a decent supply of water.
Sounds good, right? Well, you know what they say about the best-laid plans...
Firstly, the 10%-chance-of-rain forecast could have been more accurately described as "well, it's going to rain more or less during your entire race."
Secondly, Jim's rear tire blew out. Luckily, he managed to save it and not go down on his not-inexpensive Cervelo P2. He would later discover that he inadvertently glued on a 170g tubular (read: track race day tire). It's a wonder the thing didn't flat when you looked at it.
It also turns out that long-tail aero helmets and Camelbaks play together about as nicely as a
nastyass honey badger and a cobra
.
Thirdly...well, thirdly, the last 30 miles were hard. This sums it up: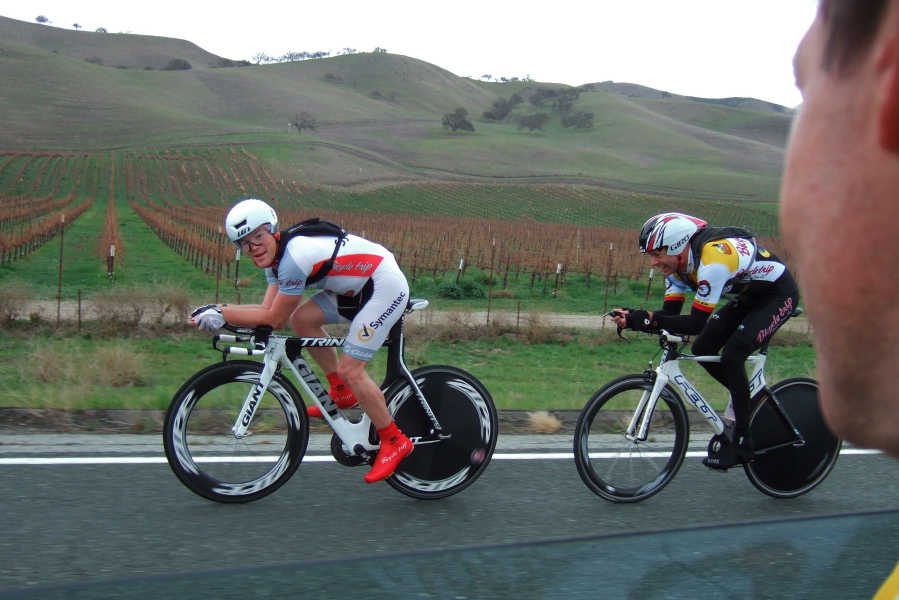 How much longer will this go on?
Holy crap, Jim's in the van and he says we've only a few miles to go! Oh happiness!
We ended up finishing the race in 04:37:04, which broke the previous course record by almost 15 minutes. Being a shameless geek, I recorded the whole thing with My Tracks and posted it to
Strava
.
Overall, it was an unforgettable experience, and I can't to return next year to attempt to break the solo course record!